When thinking of the quintessential new downtown development, a few things come immediately to mind: young (primarily white) professionals, market rate apartments, condos, ground floor retail, and the all important brewery. A development will either be in a prime location, situated in an up-and-coming area, or adjacent to a large public infrastructure project. Oftentimes, it will be "walkable" to to "farm-to-table" award-winning restaurants and coffee shops.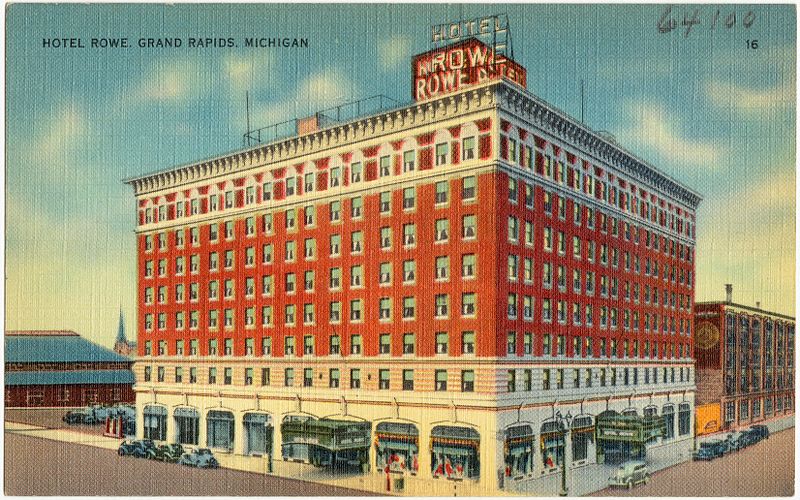 The Rowe fits the bill. Once a hotel built in the 1920s to house visitors attending Grand Rapids' semi-annual Furniture Market, converted into a retirement home in the 1960s. At the end of December 2014, it was announced that after over a decade of standing vacant the building would be transformed into "The Rowe". The development is entirely what one would expect. There will be market rate apartments (one-bedroom for $1,100/month and two-bedrooms for $1,600/month) and condos (ranging from $239,000 to more than $1 million). The project will be anchored by Atwater Brewery which is opening a beer garden and taproom on the ground floor. A perfectly safe, predictable project—a fitting capstone for the last standing vacant building downtown.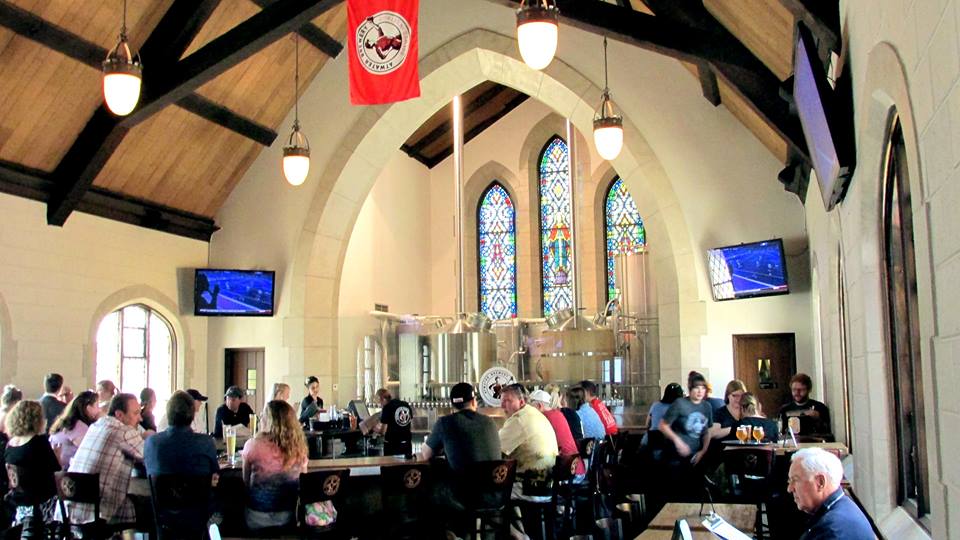 But there are a few things we can learn from this project taking hold. First, The Rowe occupies a critical location on the northwest corner of Monroe Ave and Michigan St. It is directly across from a planned Michigan State University (MSU) building and will be the first residential construction in the area. MSU has also indicated that they are willing to sell part of their land to private developers, so it likely won't be the last. The Rowe is located at the gateways of the Westside and Monroe North and will provide an enticement into areas which are traditionally considered outside of downtown. Already on Monroe, there are condos, lofts, and a variety of new developments transforming the area. A similar process is happening across the river on the Westside. Moreover, as the last empty building in downtown proper, the gentrification in the city must spread outside of the city center. This will increase pressure on the edges of downtown to gentrify as well. The Rowe functions as the perfect segue to that transformation — a keystone critically connecting and upholding two rapidly gentrifying areas.
When the retirement home that formerly occupied the building was closed in 2001, Peter Secchia bought the property and quickly sold it to the DeVos family. CWD (Cummings, Wierda, DeVos) is facilitating the project for OMH LLC, a subdivision of RDV Corp (a real estate investment company owned by the family of Richard DeVos). What's notable is that the DeVos family sat on the property for over a decade until other development around the area began. They and other millionaires treat the city is as if they are playing chess. Sometimes they keep buildings empty, sometimes they make condos for the rich, and sometimes they create spectacles like ArtPrize to drum up interest for their vision of downtown – but its all at the whim of a very small group of people. Even Atwater Brewery came at the behest of Sam Cummings of CWD. It's a good reminder of how gentrification encompasses people beyond simply hipsters and makers. It often needs the backing of millionaires. At this point gentrification in Grand Rapids has moved beyond the pioneering phase which utilizes adventurous risk-takers to start up a craft business or boutique. It's now "safe" for large investors to cash in and will likely rely on them as more projects are built new.
Gentrification is often tied to and/or facilitated by investments in public infrastructure. This is obviously true with The Rowe given that it's largely tied to the construction of MSU's facility across the street. The developers are taking advantage of that ready-made audience. We can see this happening with GVSU on the Westside and in the Belknap neighborhood. This happens in smaller ways as well. For example, The Rowe project was given a $120,000 grant by the Downtown Development Authority for outdoor features including streetscaping. Generally, these are all about facilitating private profit. In this case, according to Kris Larson of Downtown Grand Rapids Inc., the grant will "… create a more generous sidewalk environment for dining… Really an embellished public realm, a better space for people." But these features aren't really about better spaces for "people", rather better spaces for commerce. Similar to the reconstruction on Bridge St., where "bulb outs", outdoor dining areas, and bike lanes were recently installed, the investments in infrastructure are often designed to encourage gentrification. The GR Forward plan is an example of this on a massive scale. The Rowe, located near the river and a proposed park, would undoubtedly benefit from such a plan.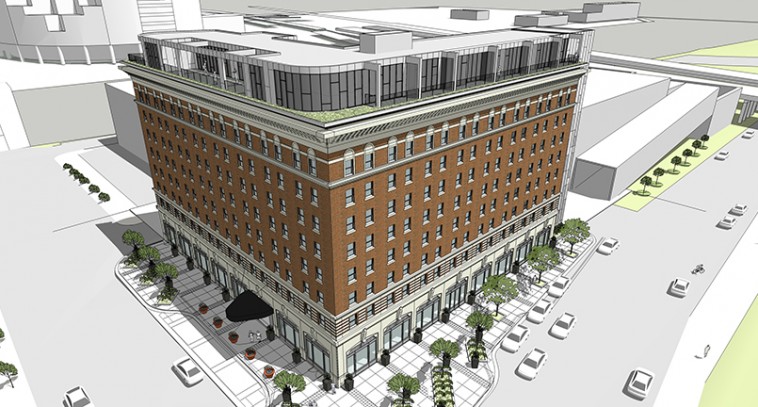 So on the one hand, The Rowe represents a familiar story. One that we've touched on before, one that is a blueprint of rendered predictions in gentrification. There are patterns here that can't be denied. On the other hand, it's a story about what is valued in the "new" Grand Rapids. Though it was closed years ago, a retirement home in downtown no longer fits—the elderly, like low- and no- income residents, are not valued. Their stories are erased and that legacy must be forgotten, hence the rebranding as "The Rowe" (a similar strategy was seen with "The Morton"). All new developments cater to their tastes and dispositions, and increasingly Grand Rapids is staking its future on this demographic. Everything must be made shiny, new, and upscale for young professionals and the tourists. The development emboldens those who would imagine away the post office, a building they see as obsolete because they have become permanently attached to their phones and because they personally are not working class. Perhaps there is a market for the million dollar condos and upscale apartments at The Rowe, but it doesn't mean that anyone deserves to live in them. Nor should we see them as the saviors of Grand Rapids.